Main content starts here, tab to start navigating
Grab Your Monk's Gift Card Today!
We did a thing... you can now purchase digital gift cards from Monk's Bar & Grill! Grab a gift card from your favorite location below and use our easy digital gift cards the next time you order online or pop in for lunch or dinner.
Don't worry, we still offer physical gift cards too - stop into any Monk's Bar & Grill location to purchase one today.
Check Your Gift Card Balance Here
MONK'S ONLINE HOLIDAY GIFT CARD PROMOTION
USE CODE GC10OFF FOR ORDERS OVER $50
USE CODE GC25OFF FOR ORDERS OVER $100


Due to the limitations of our online ordering system the above discount codes ($10 off/$25 off) will apply to the entire purchase one time only (i.e. if you spend $200, you will only get ONE bonus $25 card) - we encourage you to place orders in increments of $50/$100 but know that you can use the code with as many online orders as you'd like. Thank you for your understanding!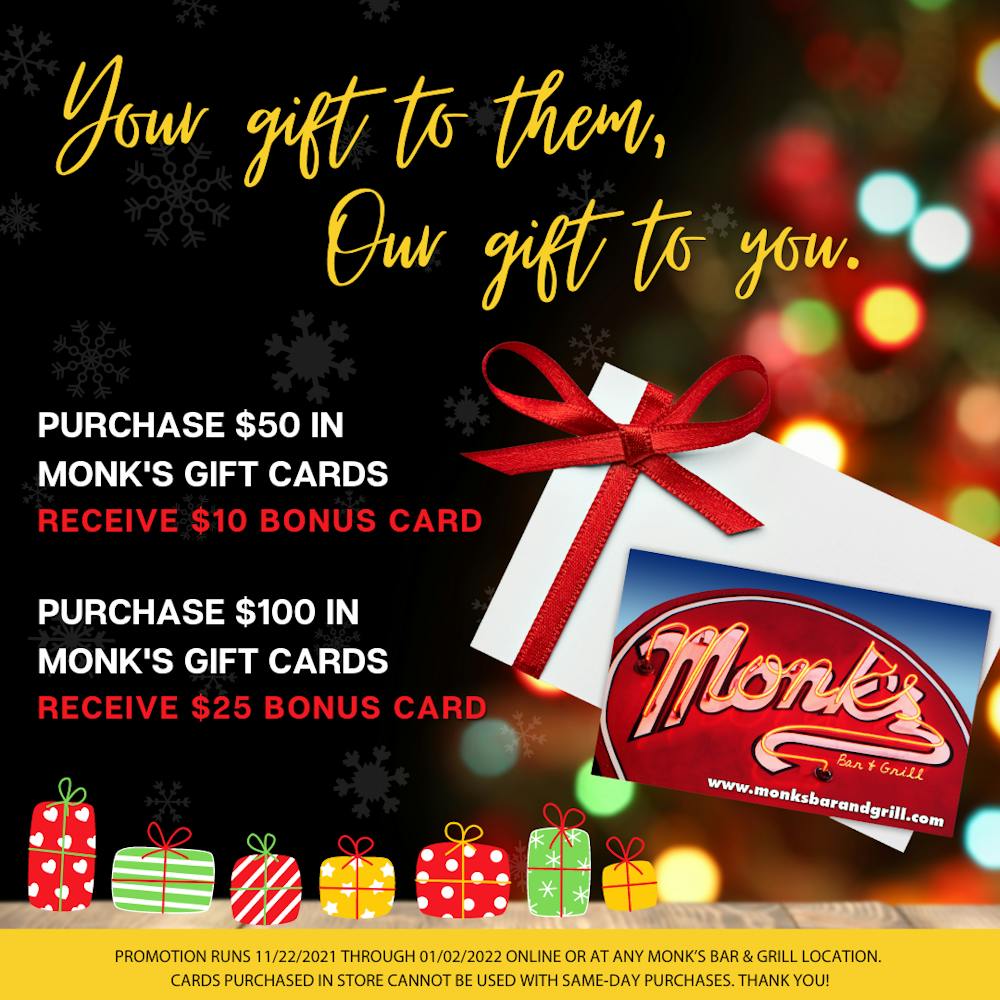 EXAMPLES
2x $25 electronic gift cards + 1x $10 electronic gift card = $60 (use GC10OFF for $10 off)
OR
5x $25 electronic gift cards = $125 (used GC25OFF for $25 off)
Q: Soooo... how do I get my Holiday Bonus Card with digital gift card purchases?
A: We've got you covered! Follow the steps below when ordering online:
Scroll to find your favorite Monk's location OR the location the person receiving your nice gift might be visiting most frequently



Fill out the amount and all necessary + required information on the page + Select "Check out" when that is completed.

Push the "BACK" button on your browser window - this will take you back to an empty GC form, add in your additional gift card(s) and know that your previous orders will stay in your cart.

Apply the promo code GC10OFF for orders of at least $60, or GC25OFF for orders of at least $125. (Only one code can be used per order)
NOTE: Make sure to add gift card(s) at the total amount of at least $60 in order to receive $10 off or $125 in order to receive $25 off.

Fill out payment information and place your order!!
You can EASILY print out our digital gift cards if you'd rather not send via email to someone. Send them to yourself + print for multiple gifts. Click buttons below for easy gift cards printables if you need some :)